Savhuset Åre
Our products are inspired by the nature around us and the beauty of the northern life.

They have always been fascinated by the idea of ​​trying to develop systems where the distance between sunlight and use or function is short and unconstrained. Such systems or products usually create effective, sustainable and dynamic conditions for minimal health and environmental impact if used properly, Sav™ is part of such a system. Sav™ is in many ways a unique winery – but also so much more than that. It is the ambassador of northern spring and reflects the soul of the north.
The heart of their products is birch sap. A raw material that has been used since time immemorial in the arctic areas as an important nutritional supplement. The birch sap is always drained in the spring when, after a long winter.
Sav™ Sparkling, as the name suggests (the Swedish word sav means sap in english), is a sparkling wine produced from crystal clear birch sap that is harvested in Sweden's cooler climate from untouched natural birch tree forests in the region of Jämtland.
For centuries, birch sap has been used in the arctic regions as an important part of nutrition during spring and late winter months.
After a recipe excavated in archives from the 18th century, eco-engineer Peter Mosten harvests the birch sap from specially selected birches at Lake Storsjön. Here the birch grows wonderfully, and the mineral rich soil helps the birches develop plenty of sap. A procedure created by Peter involves analyzing the vegetation around the birch trees to make sure that the sap contains the right minerals and substances.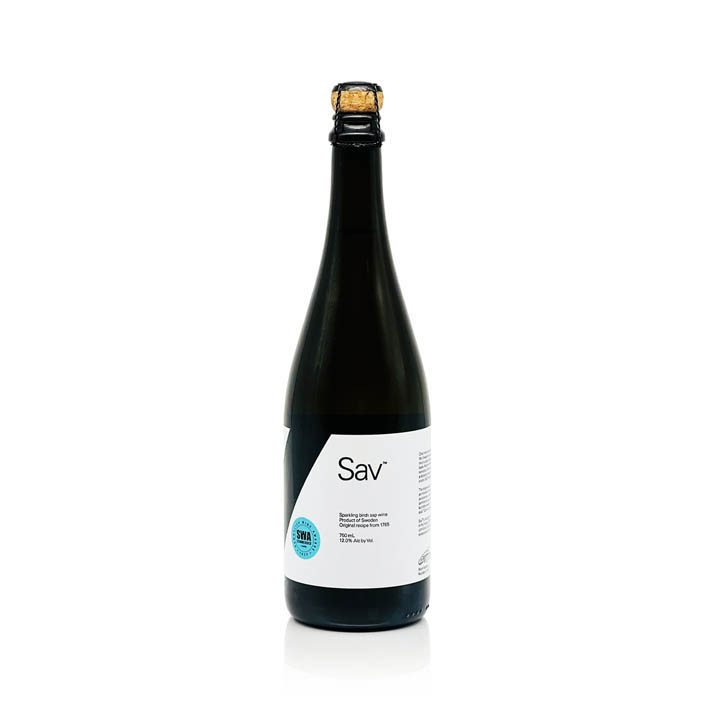 Sav™ Snö is a sparkling spiced birch wine with carefully selected flavoring and natural bubbles, balanced with a pinch of sugar. The favors are fruity with a fresh taste of orange, citrus and pineapple, with spice tones of cardamom, cinnamon and cloves.
Snö is the Swedish word for snow and it's during the spring, when the snow begin to melt, the birch sap is harvested. Sav™ Snö is best enjoyed together with friends or as a festive alternative to a dessert wine.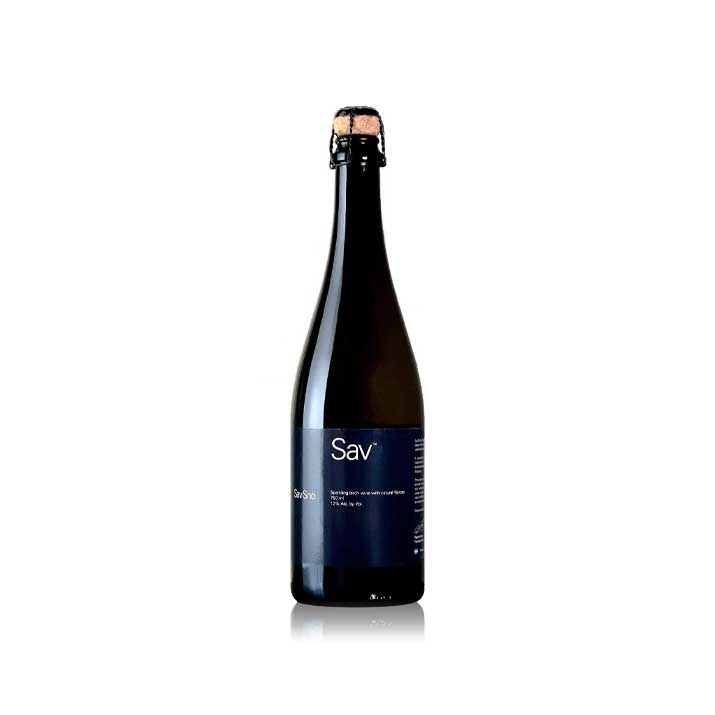 Sav™ Fjällvin is a still wine made of birch tree sap. Fjällvin translates to mountain wine, which is quite fitting since the birches are selected from the regions near the mountains. This is a nuanced and elegant white wine with a taste of barrel, birch sap, minerals, green apples and citrus. Served at 8-10°C and pairs well with fish or chicken.
Sav™ Glöd, is a birch sap wine blended with natural flavors and spices like ginger, citrus, angelica, sugar and Sav™Snaps. Enjoyed warm in front of the fireplace or as a cold aperitif before dinner.
Sav™ Snaps (Coming soon) Pure taste with hints of pears, citrus, honey and herbs. Serve chilled as snaps or in cocktails. Round, clean, fresh and mild flavor of juniper and vermouth with an undertone of herbs and birch sap. A tinted taste of lemon with an ounce of caramel. Long and balanced soft aftertaste.
Please visit our shop to purchase.
Tevsjö Mill & Distillery
There is something very special about Tevsjö Mill & Distillery.

The first miller on their farm was Olof Danielsson, it was the early 19th century with Karl XIII as Swedish regent. In seven straight descending lines after Olof, Tevsjö Mill & Distillery is now run by the spouses Anna and Jonas Larsson. It is with pride that they carry on the old miller tradition, added with an artisanal and small-scale distillery that has been producing unique spirit products since 2012, both under their own brand and those of others. Their innovative premium drinks are aimed at a conscious market and have brought us both to royalty and Nobel celebrations. They have been noticed and praised both nationally and internationally.
Ragnarök Gin is small batch distilled in a copper pot still using a base spirit made from Swedish winter barley, harvested from the fields surrounding the distillery in Northern Sweden. The aim was to produce a gin that encapsulates the Swedish wilderness, the inspiration of Ragnarök gin. To achieve this, Ragnarök uses 8 botanicals, the prominent four being juniper berries, fresh lingonberries, caraway seeds and dill leaves. In the background, but no less important, are four further citrus and spice botanicals that serve to produce an elegantly balanced gin.
The distillate is blended with pure mountain spring water to bring it down to 88 proof (44%Alc/Vol.), a strength that holds the botanicals in perfect balance, allowing Ragnarök to be served perfectly on its own and make a fantastic martini, whilst also making sure it stands up for itself in G&Ts and cocktails.
Each bottle of Ragnarök is individually filled, sealed and numbered by hand.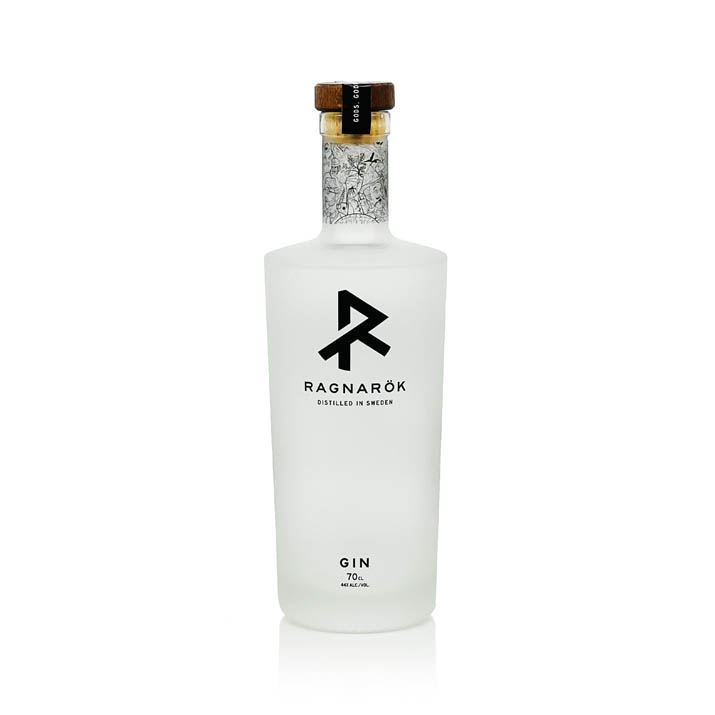 With La Luna Absinthe, Plateau Spirits have made their very own version of an absinthe, of which the botanicals get help from other fresh flavors such as papaya, coconut, coffee beans and angelica – all this is allowed to "pull" for a whole week on fresh lemon balm / heart delight. This absinthe is a real delight for the palate and you immediately forget the high alcohol percentage of 61%
Absinthe has historically been described as a distilled beverage with very high alcohol strength. This anise-inspired spirit comes from flavorings such as flowers, leaves from garden wormwood, anise, fennel and other aromatic herbs. Absinthe natural green color is often described as "The Green Fairy" in historical books.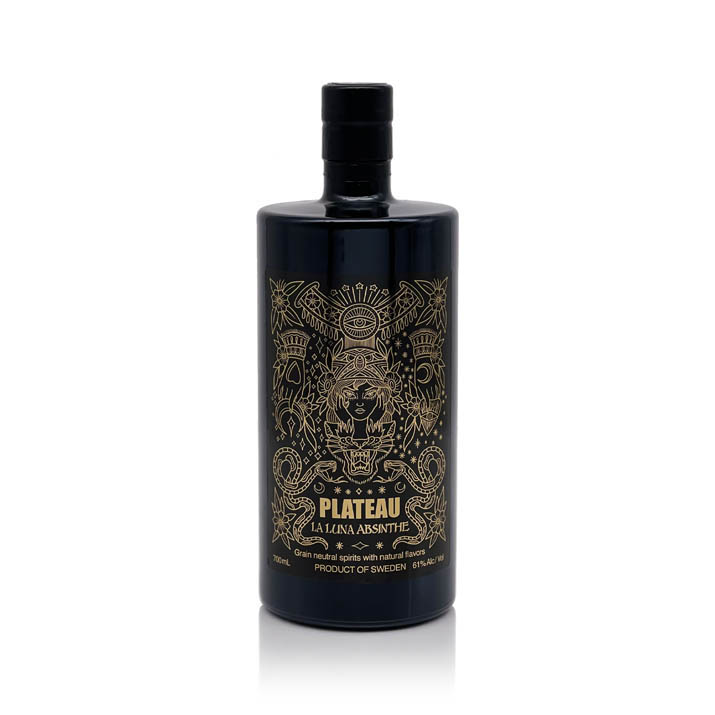 Järvsö Aquavit Royal is a traditional caraway flavored Aquavit with anise, fennel and sweet Spanish cherry.
In Scandinavia, snaps is a word used for infused sprits, where raw alcohol is infused with a flavor. Aquavit is a snaps which has been flavored with a distillate of dill seed and/or caraway.
Aquavit remains a significant part of Scandinavian culture and is commonly an integral part of special events such as Christmas, birthdays and weddings. Aquavit is great served chilled in a shot glass but it can be also substituted as the base for many gin and whiskey classics to add a new dimension to your favorite cocktails.
Gin Havtorn is a classically spiced smooth London Dry gin from Sweden with notes of fruitiness from the sea buckthorn berries grown locally in Järvsö. The perfect go-to gin for any occasion.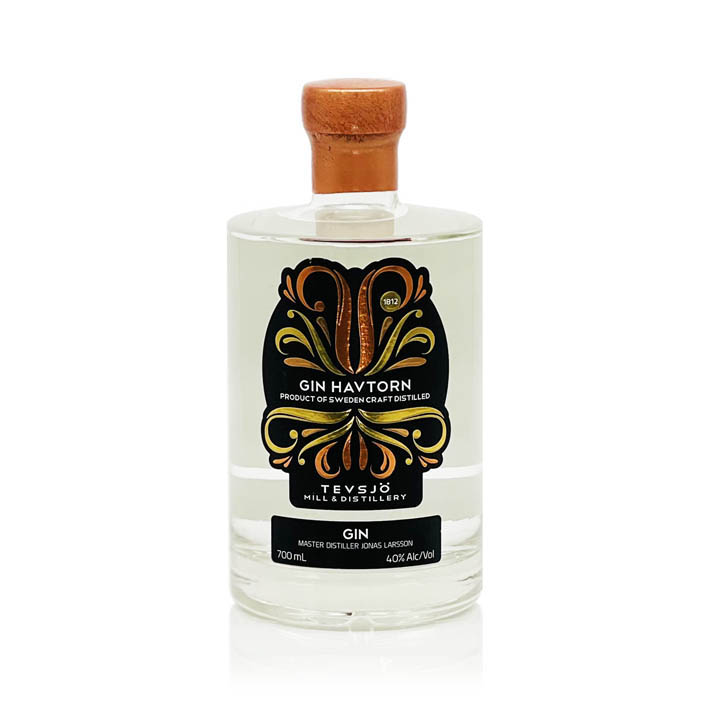 Tranquillité Gin not only got its name from the old tale of Marie "Tranquillité" Descoteaux, but also the inspiration for the recipe that became this unique and feminine gin.
Marie's parents died when she was very young and therefore she went to live with her uncle in Paris, where the family owned a small hotel and bar. When she got older she started delivering small packages for her uncle, soon she realised it was gin she was delivering.
She became a well-known figure amongst the art and theatre society and soon became the synonymous with her uncle's gin.
After her first taste, she helped her uncle refine the gin to a more feminine and sophisticated gin by adding fresh Estragon, Coriander, Blueberry, Licorice, Nutmeg & Lavender to the recipe…
…so this is the gin she will be remembered for!
Black Chai Bergamot is based on Tevsjö's own oat Vodka, made solely using oats produced by farmers from the Swedish province of Hälsingland. Tevsjö have carefully redistilled the vodka using their own secret tea blends, both with tea directly in the vodka and using a herb infuser for steam distillation. This brings out the aromatic substances in the tea, while at the same time preserving its freshness without too much bitterness.  The vodka is then carefully redistilled, this time using Bergamot tea. All the water comes from Tevsjö's own natural spring, situated approximately 1 km from the distillery. The grain is always local. Black Chai Bergamot is bottled and labeled with love at the distillery.
Black Chai Bergamot is ideal as an aperitif or as part of a cocktail.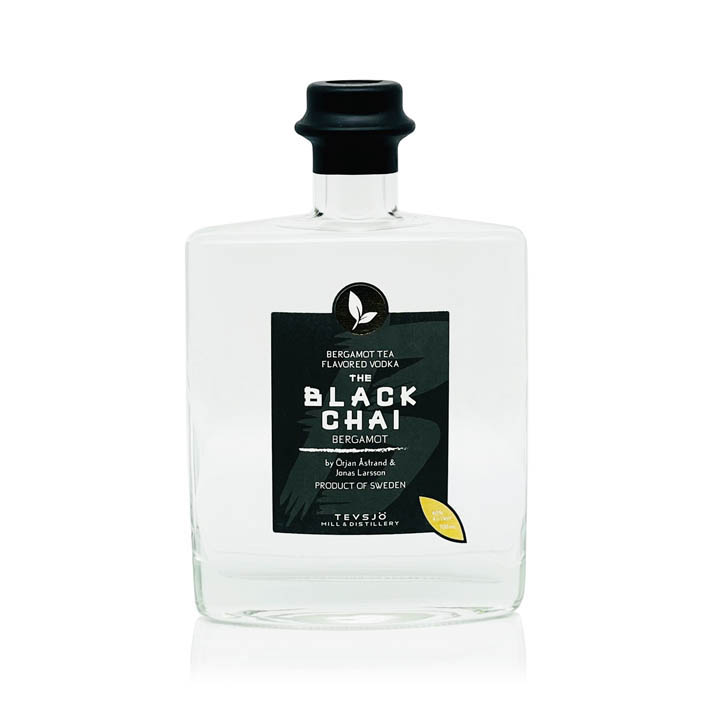 Please visit our shop to purchase.